Welcome to Cwmbran High School
To our future pupils and parents; Croeso and Welcome to our Transition 2024 page. You will find everything you need to inform your/your child's transition to Cwmbran High School in September 2024. More content is being added by the day, so please check back often for updates!
If you were unable to attend, please see below for a video of the event!
Google Classroom for Year 6 pupils
This classroom is accessible by all year 6 pupils attending CHS in September 2024 and contains:
School Site video tours
Meet the department videos for all subject areas
Virtual open evening video
Virtual sports day
Transition activities to complete from all subjects in CHS
Copies of the CHS Chronicle
Copies of the induction booklet
(Please use the classroom code kbraxxl to gain access)
We look forward to meeting your children in July.  Please drop off your son/ daughter at the drop off point and our staff will be on hand to meet them and guide them to their new form classes.
In the meantime, if you have any queries or concerns please do not hesitate to email:
Cheryl.haynes@chs.schoolsedu.org.uk
Joining Cwmbran High School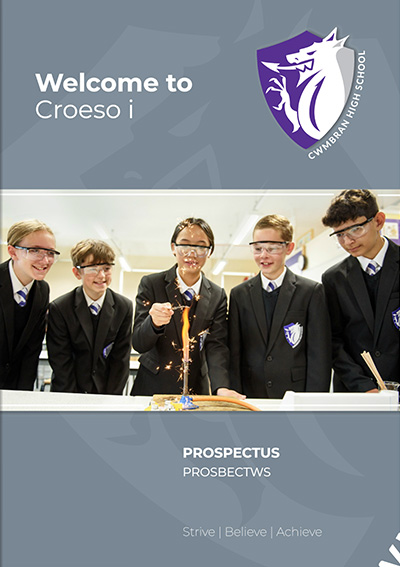 (Please click on the image to read the Prospectus)
Torfaen Parents / Carers may use this facility to apply for their child(ren) to transfer from primary to secondary school, for admission into Reception and also for in year transfers from one school to another during an academic year. Please click here
https://tcbcone.torfaen.gov.uk/CitizenPortal/en
At the bottom of this page you'll find all required documents for joining in Year 7 as well as those for joining whilst in their GCSE years (Year 10 and 11).
Welcome Introductions 
ALN support departments
Languages (English, Welsh and MFL) departments
Maths and Computing departments
Performing Arts and PE departments
Humanities department
Science, Art and Technology departments
Contact details are also below for the transition team: